Latest Work
Simply Knitting Magazine Issue 167
Simply Knitting Magazine
Immediate Media Company Limited, 3 Queensbridge, The Lakes, Northampton NN4 7BF
For sale throughout the UK, and in Borders or Barnes & Noble in the USA.
For subscriptions, email: simplyknitting@craft.buysubscriptions.com, phone: (UK) 01604 828737
(Overseas) 0044 (0)1604 828737, fill out and post the form in any issue, or log on to http://craft.buysubscriptions.com/faq2 and look at the FAQ.
The magazine's dedicated site is www.simplyknitting.co.uk.
PLEASE NOTE THAT ANY DESIGN THAT HAS BEEN FEATURED IN SIMPLY KNITTING WILL NOT BE AVAILABLE TO DOWNLOAD FROM THIS WEBSITE UNTIL AT LEAST A YEAR AFTER PUBLICATION, SO KEEP CHECKING EACH MONTH.
Irresistible Volume One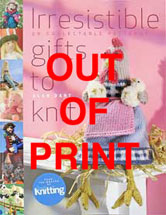 "Although this first bookazine is now out of print and unavailable, you can find all of the featured patterns on the Toy Patterns page of this website, and some have extra items added to them. You can download a full list of all my patterns, including the ones that appeared in this, from the link at the bottom of the Alan Dart page."
Irresistible Volume Two
"Two of my patterns, which first appeared in Simply Knitting, were featured in this second bookazine – these were Tea for Three (Chimps' Tea Party) and Night Owl. It is now out of print and unavailable, but both patterns (with two extra toys for the owl to take to bed with him) can be downloaded from the Toy Patterns page of my website."